The falls are truly a force of nature Falls of Shin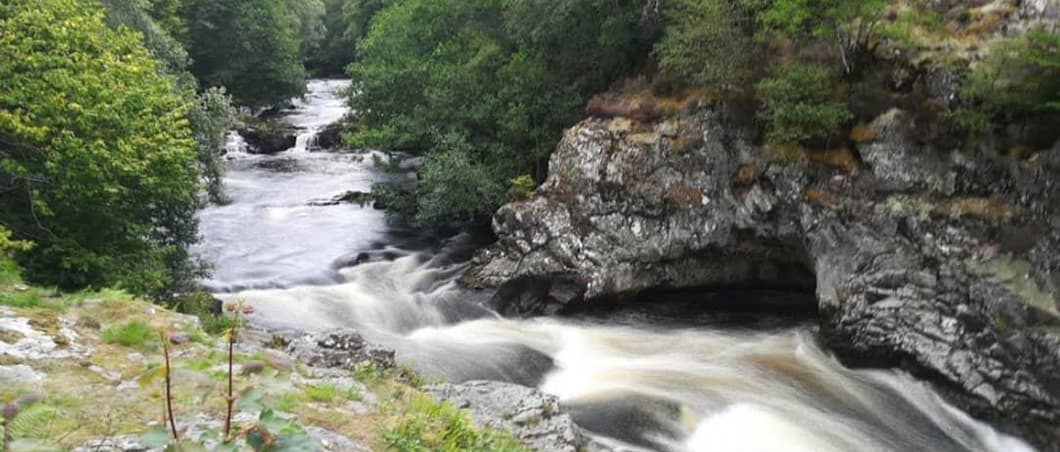 Available With Our...
Discover The Falls of Shin…
 
The Falls of Shin is a popular visitor attraction in the North of Scotland. Situated near the village of Lairg, the falls are known for being one of the best places in the Highlands to view salmon leaping up the waterfall from the river below. The falls are truly a force of nature, their thundering can be heard as you approach the short path that leads to the viewing platform above the rocky banks of the river.
What can you do at the Falls
You can take a walk to the viewing platform to watch the salmon as they try and leap out of the water – which makes for a popular fishing destination. With various different paths in the surrounding woodland, you can be sure to spot some local wildlife. There are also various amenities including a gift shop, a restaurant, a mini-golf course, and a children's play area. 
Getting to the Falls of Shin
The Falls are located on the River Shin, near the villages of Bonar Bridge and Lairg. The drive from Inverness to the Falls of Shin takes approximately 1 hour and 10 minutes if you follow the A9 route. Free parking is available at the car park located near the waterfall. Bus routes are also available if you prefer to travel by public transport.
Our Available Tours
This incredible destination features on 2 of our tours, along with various other fascinating spots. One of our friendly local guides can pick you up from your place of stay in Inverness or from the ferry port in Invergordon, allowing you to avoid the hassle of public transport and vehicle rental.
So why not tour the Highlands from Inverness, visit Millionaire's Viewpoint on our North Highland Tour from Inverness or the North Highland Tour from Invergordon. 
More Must See Destinations
Cawdor Castle & Gardens
History dating back to the 14th Century
QUICK DESCRIPTION
Cawdor Castle and Gardens is an increasingly popular Highland attraction with history and scenery in abundance. If you're considering an adventure from Inverness or Invergordon while in the Highlands, the beautiful scenery at Cawdor Castle and Gardens is a must.
ACTIVITIES/FEATURES
Gardens
Castle Tour
Cafe
Nature Trails
Read Further...