The falls are truly a force of nature Falls of Shin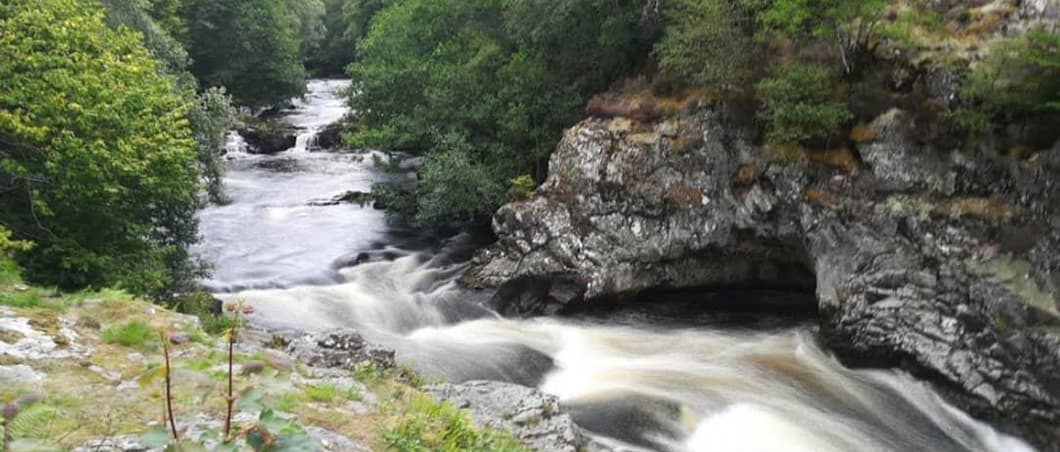 Available With Our...
The Falls of Shin is a popular visitor attraction in the North of Scotland. Situated near the village of Lairg, the falls are known for being one of the best places in the Highlands to view salmon leaping up the waterfall from the river below. The falls are truly a force of nature, their thundering can be heard as you approach the short path that leads to the viewing platform above the rocky banks of the river.
Nearby are various amenities including a restaurant, gift shop, mini-golf, children's play area and free parking. The surrounding woodland has many trails and walking routes, which offer a perfect opportunity to spot some local wildlife.
Getting to the Falls of Shin
If you are visiting the Highlands and wish to take the hassle out of seeing sites like the Falls of Shin, why not check out one of our tours? Avoid busy public transport and the stress of vehicle rental – instead, sit back, relax and enjoy the Highlands on a tour with one of our friendly local guides, who will pick you up either from your place of stay in Inverness or at the ferry port in Invergordon.
More Must See Destinations
Cawdor Castle & Gardens
History dating back to the 14th Century
QUICK DESCRIPTION
Cawdor Castle and Gardens is an increasingly popular Highland attraction with history and scenery in abundance. If you're considering an adventure from Inverness or Invergordon while in the Highlands, the beautiful scenery at Cawdor Castle and Gardens is a must.
ACTIVITIES/FEATURES
Gardens
Castle Tour
Cafe
Nature Trails
Read Further...